Hiring specialized firms to tackle non-core functions leads to growth
Third-party vendors are reshaping the American workforce. Embraced by businesses ranging from Google to Walmart, outsourcing is on the rise in virtually every industry — commercial real estate included. Today, many businesses that once sporadically relied on independent contractors see the wisdom of outsourcing whole functions to firms with specialized knowledge and capabilities.
In the real estate industry, more owners are beginning to see that focusing on core competencies is the only way to grow in today's hyper-competitive market. The calculus here is all about opportunity costs: Owners certainly know how to underwrite deals; the question is, what is lost if you spend a week on underwriting instead of continuing to pursue new deals and forge new ties with investors?
CREModels serves such clients by combining high-touch, expert services with state-of-the-art software and technology solutions. Since 2010, we have forged lasting ties to a growing roster of investors, sponsors, limited partners, and real estate investment banks, as well as top owners and managers of offices, shopping centers, self-storage facilities, multifamily developments and student housing.
In providing real estate services for deals ranging in size from one million to hundreds of millions of dollars, CREModels has partnered with real estate teams throughout the capital stack, including sponsors, investors, and lenders.
By outsourcing due diligence, debt and equity analysis, lease abstracts, underwriting or asset and portfolio management tasks, commercial real estate companies stand to dramatically ramp up their growth. The analysts at CREModels have helped several real estate businesses more than double their AUM, an achievement that would have been far more difficult if their in-house teams had been tasked with setting up the systems and processes to execute all of this.
Real estate companies can also reap other efficiencies by working with us, as when clients leverage our proprietary software, the CRE Suite for analytical modeling—a smarter approach than trying to develop and maintain such tech tools in house.
Outsourcing goes mainstream
Across the U.S. economy, outsourcing non-core functions is rapidly becoming table stakes.
According to a Feb. 2017 Wall Street Journal article titled "The End of Employees," contractors and consultants represent up to 14 percent of total U.S. employment, or roughly 20.3 million people. Experts cite companies outsourcing, not only specific jobs or leveraging virtual assistants, but also the work of entire departments.
In the U.S. airline industry, for one, specialized firms now handle baggage delivery, heavy maintenance, catering and reservations. Per the WSJ piece, Virgin America's CEO once told investors, "We will outsource every job we can that is not customer-facing."
Commercial real estate firms stand to benefit from higher-order outsourcing because of the way it advances broader corporate strategies, especially those that hinge upon core tasks such as acquisitions, dispositions, management, or development.
Owners have long outsourced brokerage and management services to third-party providers, and the professionals associated with these providers are themselves independent contractors. In the same way, asset and property managers typically run lean in-house teams and subcontract functions such as cleaning, security, landscaping, equipment repair, legal services, marketing and lease administration.
However, as CRE firms become more aware of their core competencies, they are outsourcing more technical and highly specialized functions as well.
Just to name a few, these include tasks include:
providing the data and reports that asset managers and c-suite executives need to make smart investment decisions.
running standardized and highly efficient re-forecasting and cash flow projections
conducting intensive underwriting and due diligence on behalf of real estate companies;
creating comprehensive and compelling deal packages for their prospective investors;
Real estate outsourcing: 'the Three Es'
By outsourcing such non-core functions, real estate companies can propel growth by homing in on a short list of core functions and goals. Three primary benefits drive this approach: expertise, experience, and efficiency.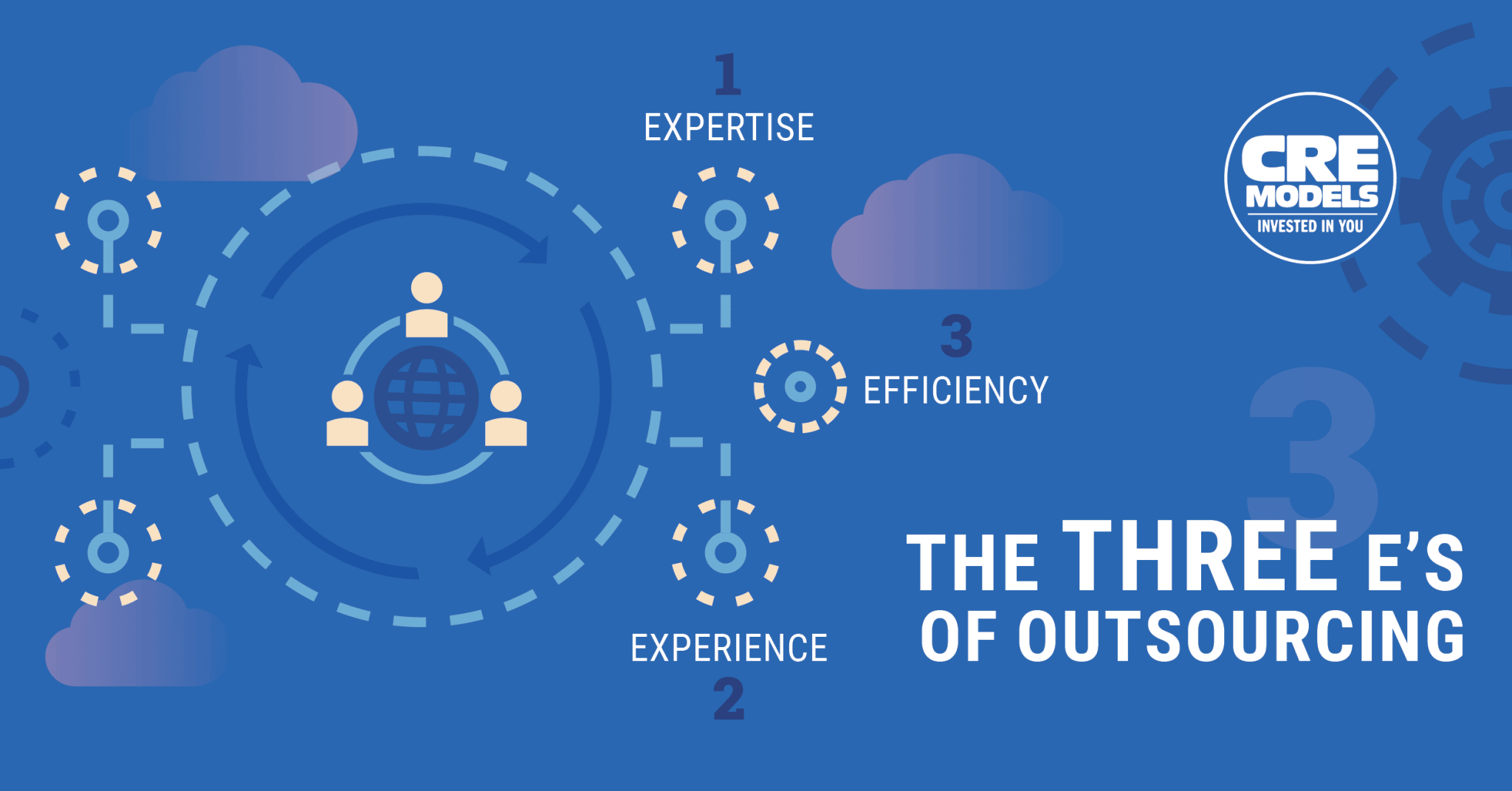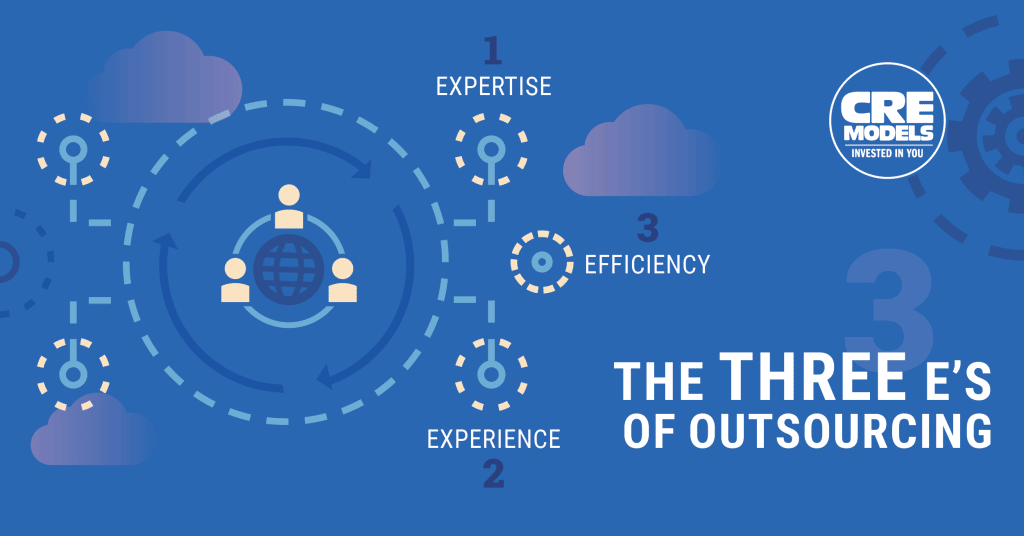 Expertise: Keeping up with new trends and building expertise around them is both time-consuming and capital-intensive. It takes an agile and innovative team to tackle specific problems arising from the new ways in which tenants, consumers, vendors and other parties interact with technology, data, shifting preferences and more. But solving such problems yields major benefits.
Firms that outsource for expertise often do so on a project-by-project basis, working with expert consulting firms, contractors and freelancers that offer expertise in areas such as financial analysis, human capital, big data, programming, etc.
Experience: Gaining access to industry experience and best practices is a key benefit to companies as they employ third-party providers. Consulting firms focus on a subset of competencies. In commercial real estate those competencies include underwriting, financial modeling and due diligence. As a result, they tend to perform similar duties for multiple firms and are thoroughly versed in both common challenges and best practices.
Expert analysts can help real estate buyers take more efficient, risk-reducing approaches to due diligence, or work with clients to create best-in-class pitch decks and go to market strategies that wow lenders and investors, much in the same way that ad agencies deliver value to consumer product manufacturers and other clients.
Efficiency: Efficient deployment of capital and resources are important keys to success. Companies seeking increased efficiencies often have established processes that can be dramatically improved via a relationship with a lower-cost and flexible provider.
Take the example of replacing a haphazard approach to tenant expense notifications with a clear, consistent, easy-to-understand and rigorously systematized one. Instead of tenants feeling subject to arbitrary and unfair declarations by the landlords, the more efficient approach encourages a sense of parity; the tenant feels that all parties are playing by the same rules. Moreover, the team's "deep dive" into the landlord's expense notifications process almost always turns up significant opportunities to save money by eliminating faulty calculations.
Specialists excel at helping real estate companies streamline such operations and reduce costs. Outside firms also tend to offer expertise in HR, management and regulatory compliance. Because they can absorb large swings in demand, they can also give clients additional flexibility.
Firms gain big advantages by having on-demand access to capable staff without the typical HR headaches associated with the low- to mid-level employees who are usually tasked with these activities. In 1996, after publication of the landmark Harvard Business Review piece "What is Strategy?" by American academic Michael E. Porter, U.S. firms began offloading major functions to outside firms to focus more keenly on their core competencies. It is still the primary outsourcing force today.
As an aside, it is important to note that core competencies are quite straightforward in real estate. The common thread is growth: While some investment firms think of running fabulous cash flow analyses as part of their core, and some developers take pride in their due diligence capabilities, the fact is neither task is a growth-driver. The core competency for an investment firm is to invest. For a developer, it is to find and execute deals and/or projects.
Unless you are performing something like this as an outsourced service, it will not contribute to the growth and value of your business.
Where to start: The real estate outsourcing checklist
Firms that are looking to capitalize on the benefits of outsourcing should start first with a strategic review to identify what they feel their core competencies are as a firm and then determine which of those they are uniquely suited to perform instead of their competitors. This naturally helps them identify those tasks and duties that do not qualify as core competencies and that are currently being performed by their in-house teams.
Keep in mind that maintaining a competitive edge requires continual effort: The instant competitors perceive that you have found an area to exploit, they will quickly react and attempt to copy and then improve upon your newfound strategy.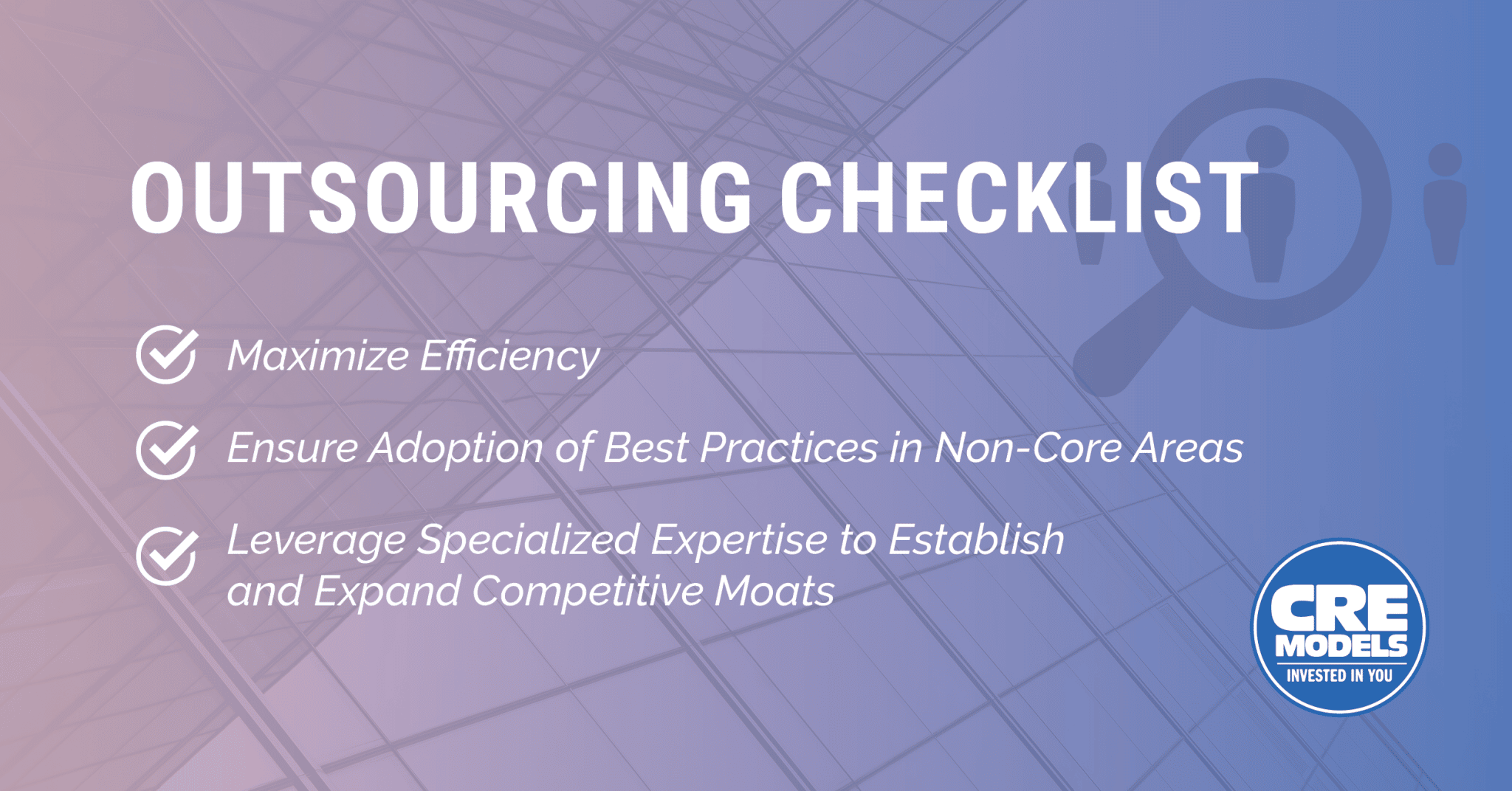 Once the firm identifies its short-list of core competencies, it can employ three primary types of outsourcing to ensure optimal execution:
Maximize Efficiency. Outsource all activities that can be reduced to a defined process. Hire a firm to document, optimize and then implement that process. Ideally use a provider with strong technology skills and a deep understanding of systems to continually refine and automate non-core tasks while reporting on key metrics and trends.
Ensure Adoption of Best Practices in Non-Core Areas. Hire a firm with deep industry experience to ensure your non-core areas are operating at least as well as everyone else's. While your internal team is focused on the core, you don't want other areas of your business to suffer.
Leverage Specialized Expertise to Establish and Expand Competitive Moats. Here you need a firm that understands your strategy and business problems extremely well and will have innovative ideas. The firm should show extensive competency in performing highly technical custom projects from the ground up.
All engagements of this type should be designed to produce a deliverable that advances the client's ongoing goal of achieving sustainable competitive advantages. Tap the knowledge and skills of the outside firm to ramp up your competitiveness and catalyze the implementation of your strategy.
A shifting paradigm in real estate outsourcing
Not every real estate decision-maker has yet to embrace outsourcing. Generally speaking, resistance to this approach stems from certain misconceptions about why and when companies should engage in the practice.
For example, some real estate executives still see higher-order outsourcing as something that businesses do only when they need to save money by sacrificing quality — as a hallmark, in other words, of those with scant financial resources. In truth, the rise of outsourcing owes to the critical need to reduce "noise" and keep internal staff focused on expanding competitive advantages in the marketplace.
One of the most attractive benefits of outsourcing in the early years was the cost benefit of sending work overseas. Since those days, however, costs have risen dramatically. Technology has drastically leveled the playing field and online platforms have allowed offshore freelancers and teams to close the pricing gap between themselves and their U.S.-based counterparts. Many firms today are finding that the ROI of using offshore firms has completely eroded, especially when adjusted for differences in quality and management issues.
It is also important to be discriminating about the firms you work with. Never outsource real estate work to a company that simply acts as a middleman between your business and the ultimate talent or project team. Firms that are themselves outsourcing what they are pitching as their core competencies add little in the way of value. Beware of any consultancies that use contractors to produce the bulk of their deliverables.
Outsourcing represents a major shift. Commercial real estate companies, like those in other sectors, are under intense pressure to operate more efficiently, capitalize on industry best-practices, and hone their competitive edge.
Many in the CRE world are finding that the most effective solution is not just to outsource individual jobs, but also to offload non-core functions. Processes related to analytical modeling, audits, lease abstracts, underwriting, due diligence, debt and equity analysis, asset and portfolio management and more are areas to capitalize. This allows them to keep a lean, core team of employees focused on creating, maintaining, and expanding the firm's strongest growth engine—its competitive advantage in the marketplace.