We maintain a comprehensive list of commercial and multifamily real estate research for investment and development. This is our Commercial Real Estate Research Roundup related to those real estate research reports released at the end of 2019 and during Q1 2020 that can help you understand overall trends in the real estate industry and the outlook for the coming year.
We endeavor to provide short overviews of the more comprehensive reports and links to all of them, so you have a single source for high-quality real estate research.
If you would like to have your research included here, please email us at: research@cremodels.com

PwC & ULI: Emerging Trends in Real Estate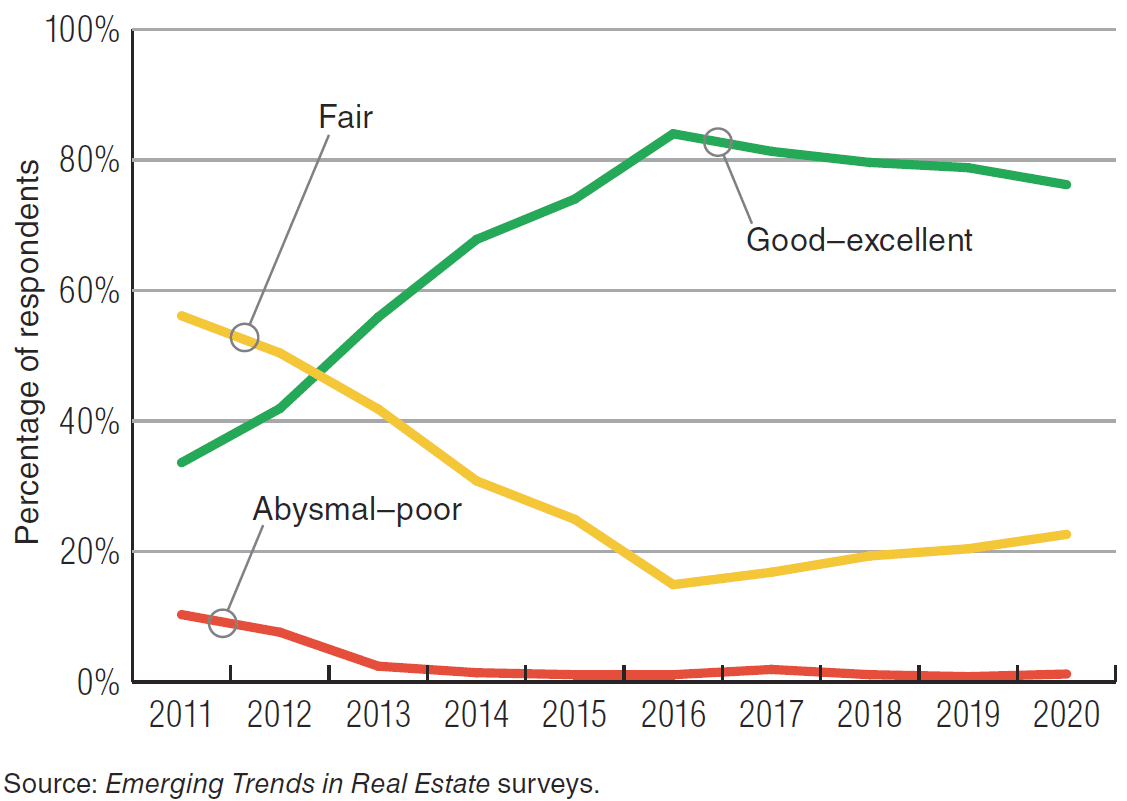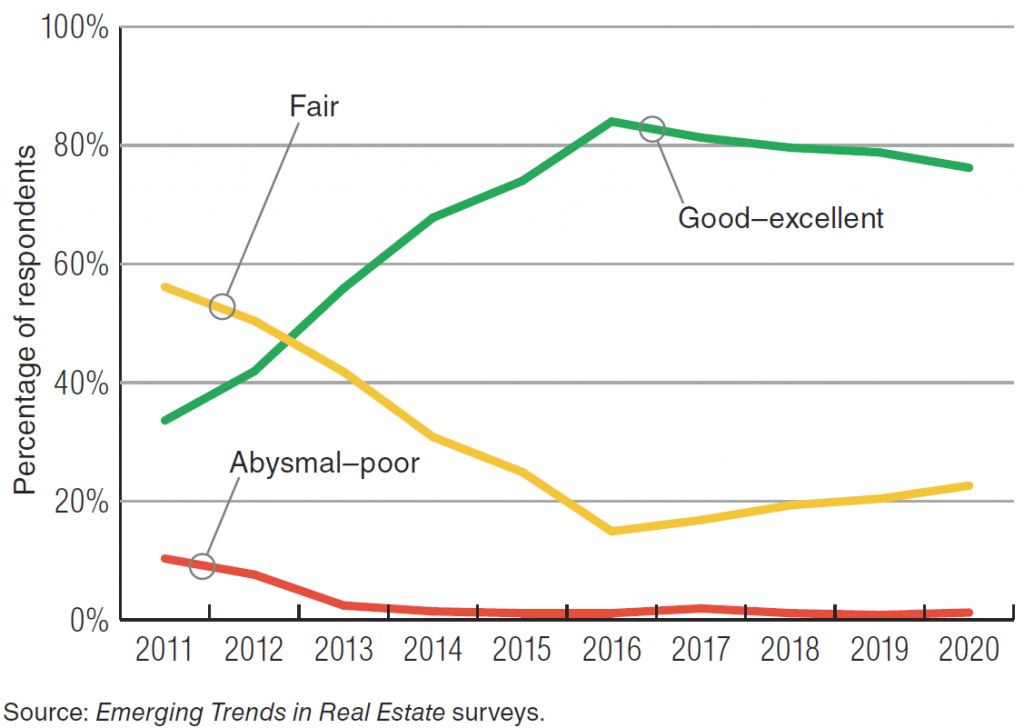 The annual Emerging Trends in Real Estate report published by PwC and the Urban Land Institute is an in-depth 100-page report that takes a macro-level look at major trends and key markets to watch in both the U.S. and Canada. It also provides overviews of the operating performance and outlook in six property sectors – office, industrial, retail, apartments, single-family homes and hotels.
There continues to be significant liquidity in the commercial real estate market on both the debt and equity side. The amount of private equity "dry powder" is estimated at more than $2 trillion globally, with at least 5% of that capital allocated to commercial real estate. One of the key themes in the 2020 report is the need for investors – and cities – to embrace change and rethink growth strategies in an environment where there are plenty of changes afoot ranging from disruptive technologies to climate change.
Integra Realty Research: Viewpoint 2020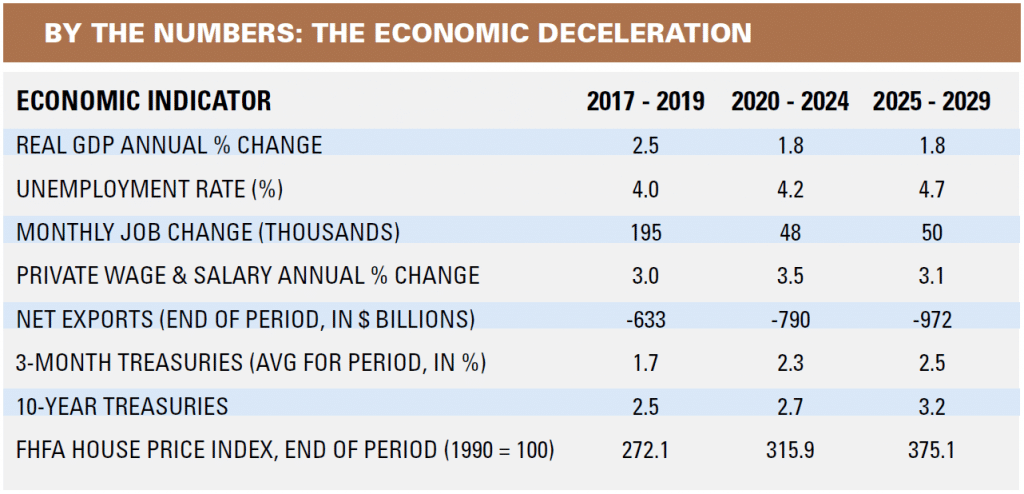 This annual report explores national commercial real estate trends, as well as provides a detailed overview of five key property types: office, multifamily, retail, industrial and hospitality. Specifically, The IRR Viewpoint 2020 examines how trends related to the economy, housing, capital markets, interest rates and employment will affect CRE markets in the year ahead. This year's specialty property sector analysis also takes a closer look at Caribbean hospitality, senior housing and the maturing marijuana real estate sector.
Deloitte: 2020 Commercial Real Estate Outlook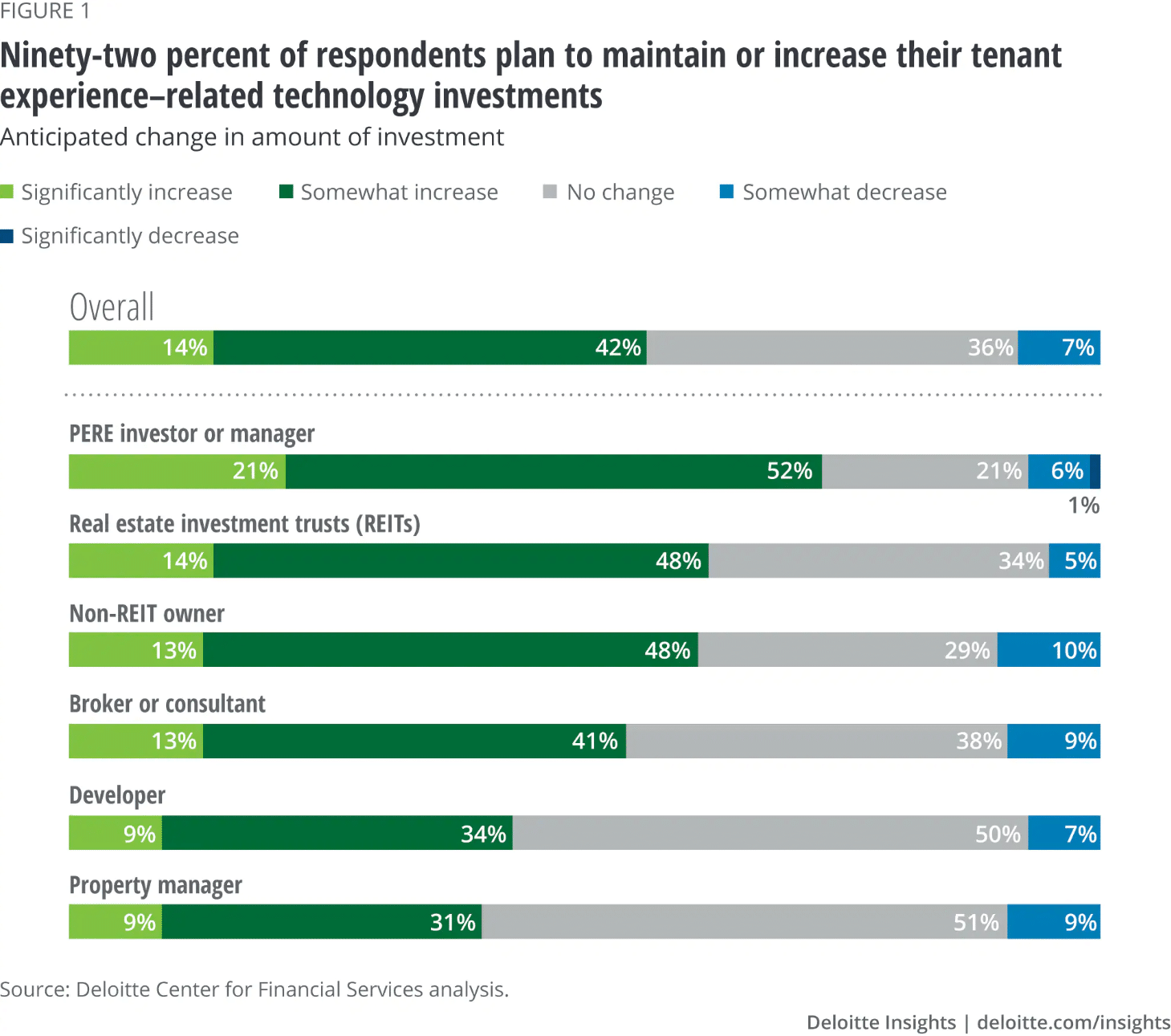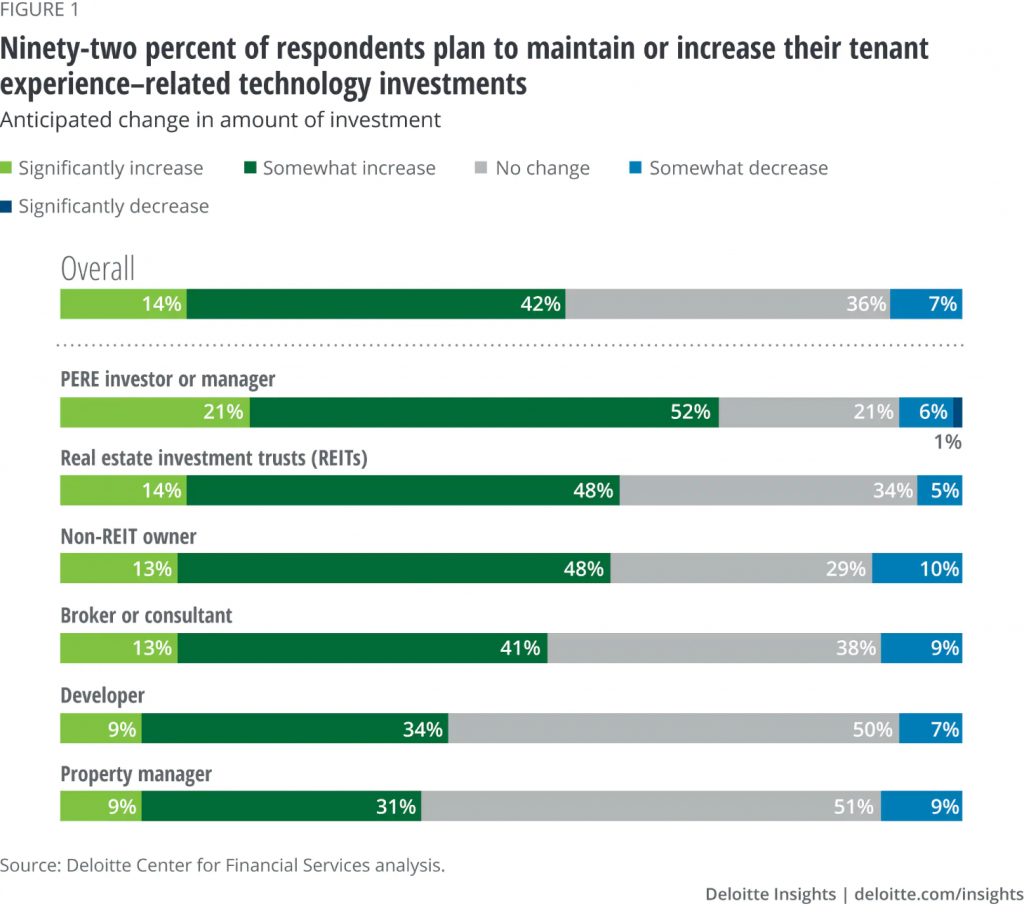 Deloitte's annual Commercial Real Estate Outlook 2020 found that a majority of CRE professionals have positive views about how the CRE industry will perform over the next 18 months. The majority, 61%, are somewhat optimistic and another 15% claim to be very optimistic, while an additional 14% are neutral and 10% consider themselves to be somewhat pessimistic. The 2020 outlook includes surveys from 750 CRE executives in 10 countries. Regionally, respondents from Asia are the most optimistic, followed by those from North America and Europe.
Goldman Sachs: Global Economic Outlook 2020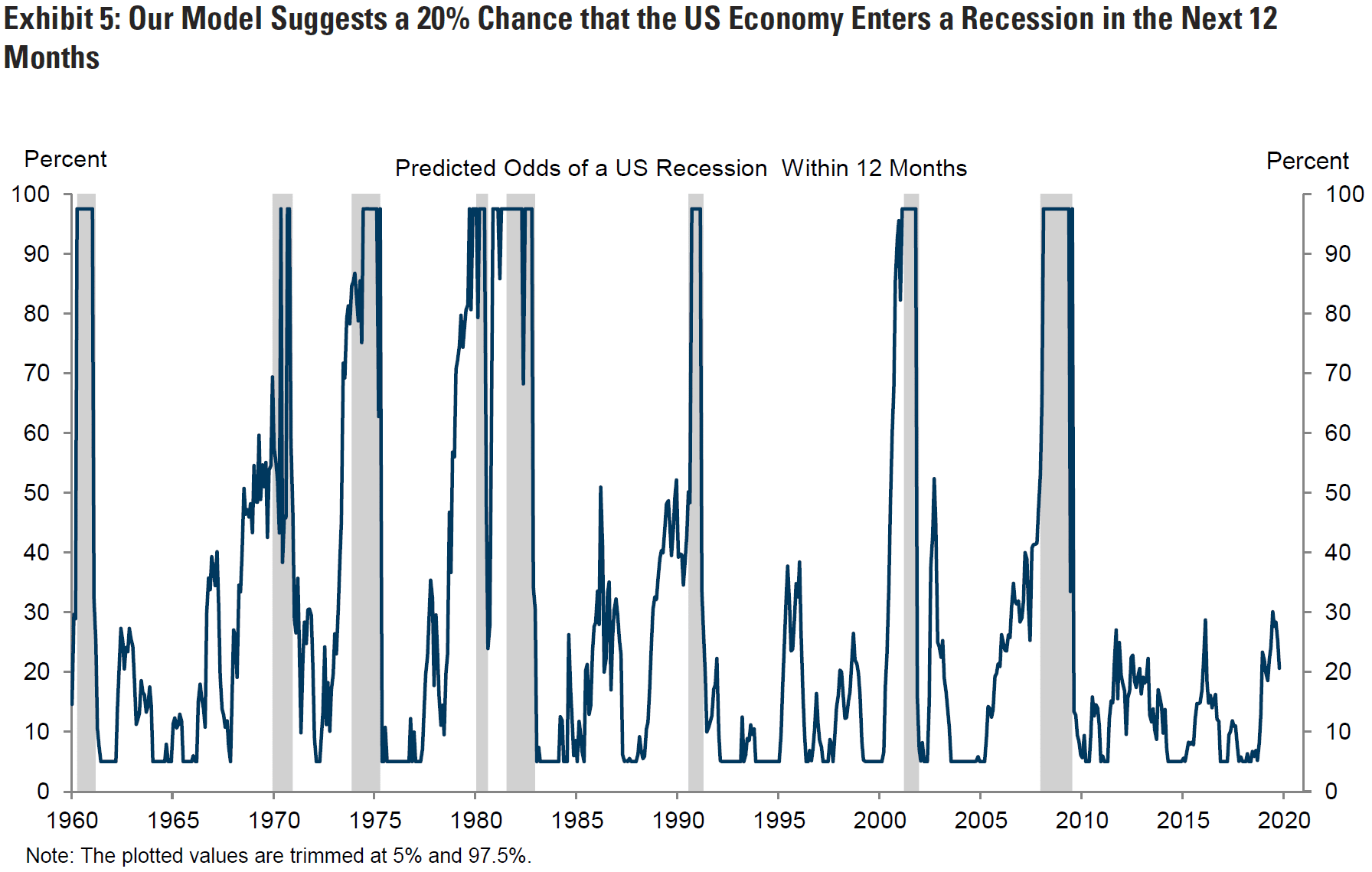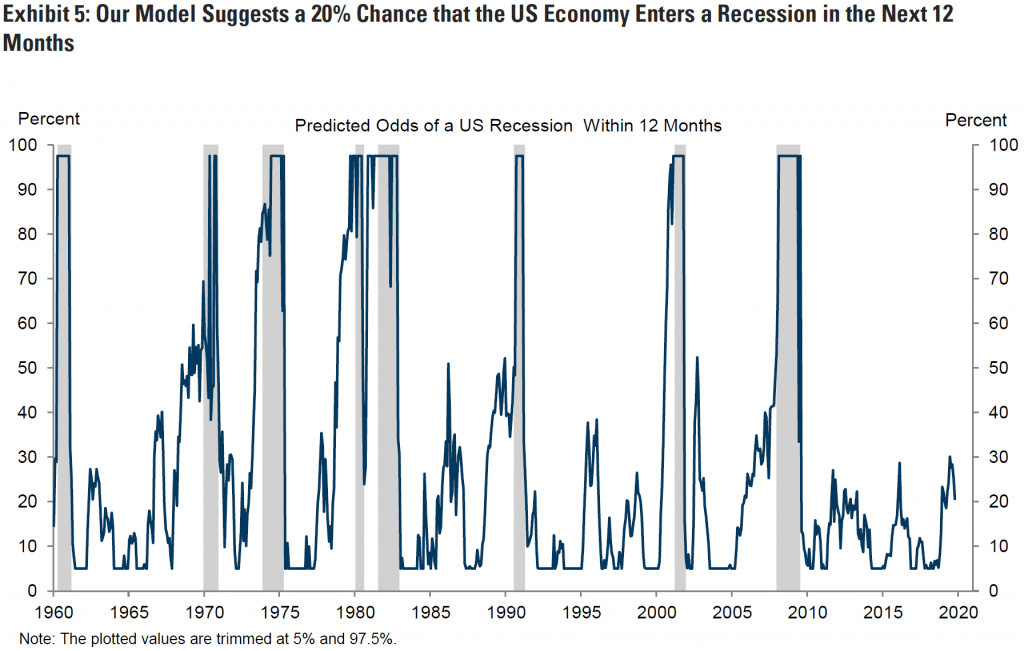 The latest analysis from Goldman Sachs is predicting a "break in the clouds" ahead in the global economy. Overall, the firm is anticipating a slight increase in global GDP from the expected 3.1% in 2019 to 3.4% in 2020. The increase is due in larger part to a US-China trade agreement and reduced uncertainty related to Brexit. Although the increase in growth is relatively modest, it is a significant reversal in what had been a trend in slowing growth. The report also noted that, despite the flat yield curve, the risk of a global recession remains more limited. Importantly, the report also said that confidence in growth is highest in the U.S., while there are still some headwinds that will weigh on growth in Europe, the U.K. and Japan.
Across many advanced economies, Goldman expects continued upward pressure on wage growth, which is likely to push unit labor costs above central bank inflation targets.
Slightly better growth, limited recession risk and friendly monetary policy should provide a decent background for financial markets in the early part of 2020.
Some issues to watch include concerns about the impact of higher corporate taxes on profits that could emerge in the runup to the U.S. presidential election. Rising wage growth also could reduce profit margins over the next several years.
PGIM Real Estate: Trends for 2020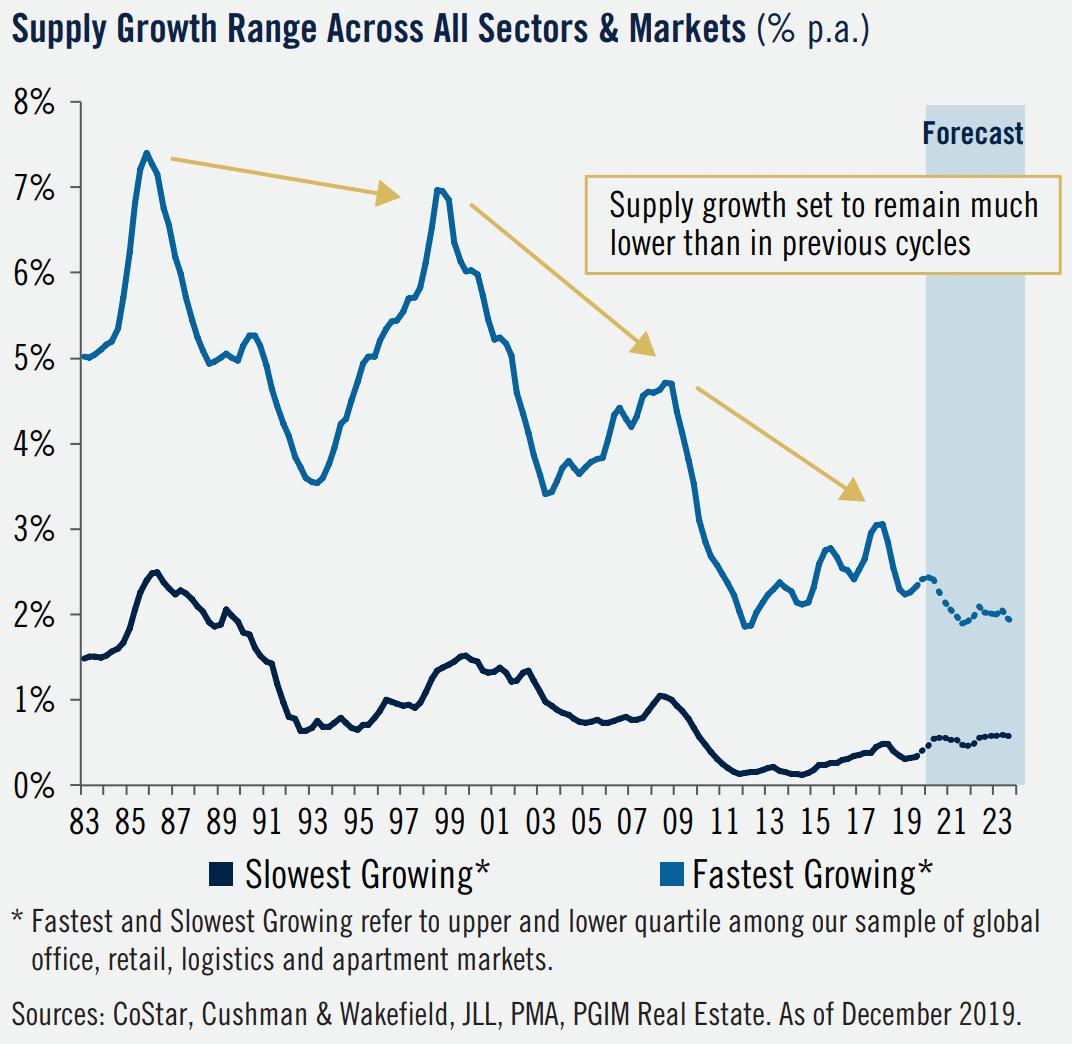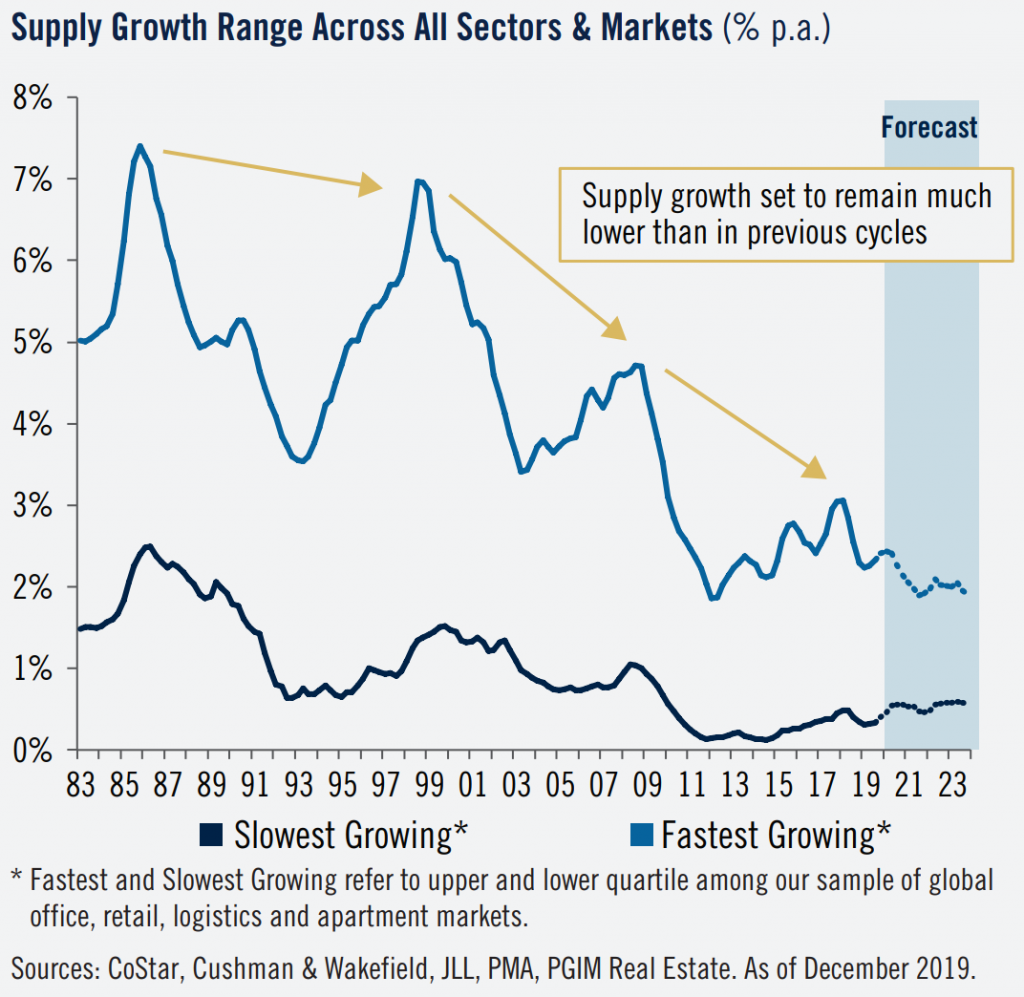 The latest 2020 Global Trends Report from PGIM Real Estate suggest another "resilient" year of real estate performance ahead. That is a positive forecast given what has already been a record long-running growth cycle. PGIM anticipates that there will be ample opportunities in the year ahead to capitalize on favorable occupier and investment market momentum. However, the report also noted that investors are navigating in a challenging environment with slower growth, shifting occupier preferences, an abundance of capital targeting real estate that is producing intense competition, and an ongoing transition to a lower return environment.
A number of major occupier and investment trends are in play that will influence market conditions and investment performance in 2020 and beyond.
Specifically, PGIM has identified four global trends that are set to have a significant aggregate impact:
More Employment Growth to Come: The current cycle continues to be driven by employment rather than productivity, while the stable outlook for global GDP growth points to another year of steady real estate returns.
Low Supply Environment Persists: The ongoing low supply environment continues to support prospects for rental growth, enhanced by a strong link with employment growth in the current cycle.
Further Scope for Yield Compression: Past interest rate increases have been weighing on real estate pricing, but the shift toward looser monetary policy paves the way for further yield compression in 2020.
Cross-Border Flows Weakening: Cross-border investment flows are weakening in the Americas and Europe, reflecting a wider slowdown in trade liberalization. Asia Pacific is bucking the trend.
RCLCO: Sentiment Survey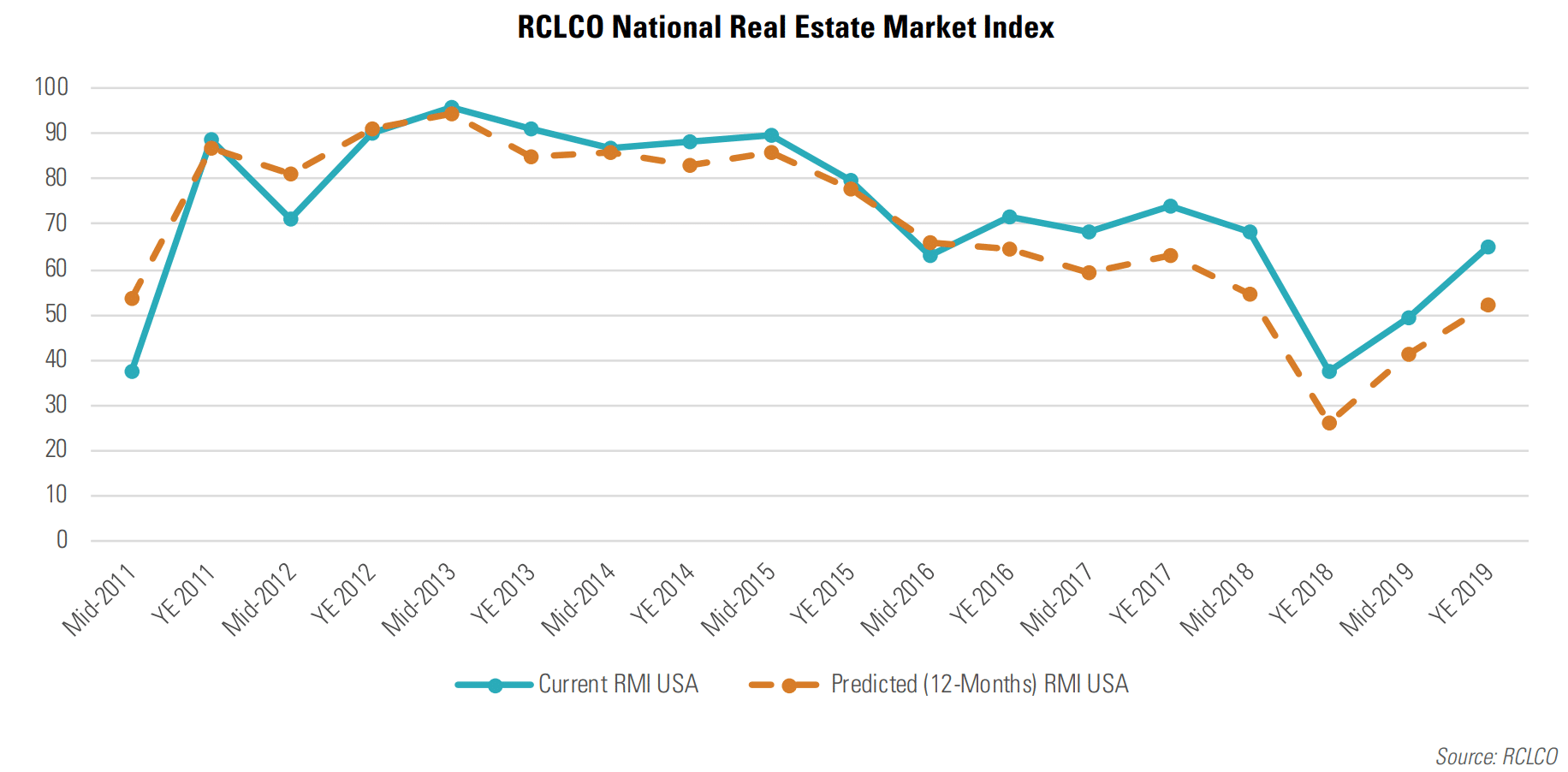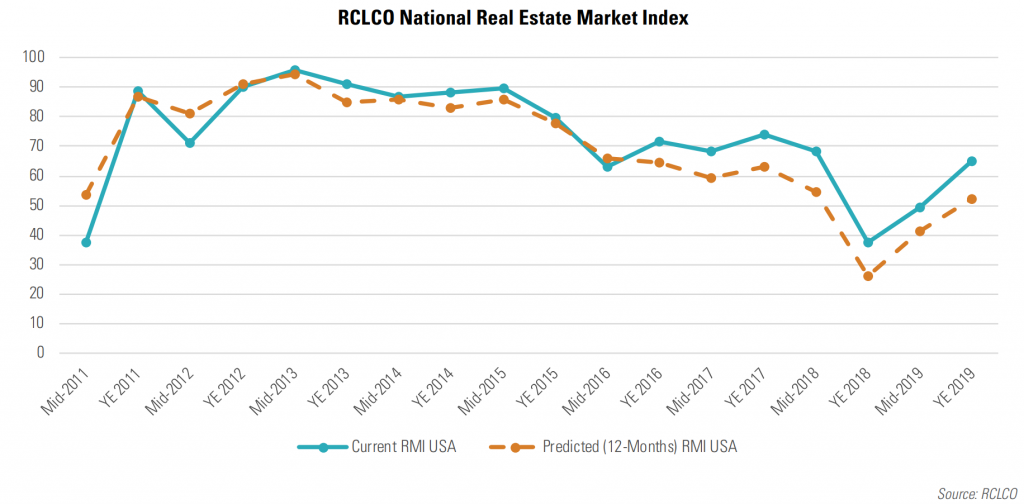 The latest RCLCO Sentiment Survey for year-end 2019 shows continued confidence in real estate market conditions heading into 2020. Respondents are more optimistic than they were at the end of 2018 when there were growing concerns related to a slowing economy and potentially even a looming recession. Consistent with the findings of the mid-2019 survey, respondents indicate that most product types remain firmly in the "late stable" phase of the real estate cycle with all uses, except retail, easing back from the cycle peak. Although respondents have a favorable view of near-term conditions, there is still some concern that conditions could worsen in 2021 or 2022.
Some of the highlights of the Sentiment Survey are:
The RCLCO Current Real Estate Market Sentiment Index (RMI) has increased 27.4 points over the past year from 37.5 at YE 2018 to 64.9 at YE 2019.
Respondents predict that real estate market conditions will worsen slightly over the next 12 months, with the RMI anticipated to drop approximately 13 points to 52.3.
Nearly three-fourths of survey respondents (77%) believe the downturn will not occur until 2021 at the earliest, with 37% not predicting the downturn until 2022 or later.
Most respondents (64%) indicated that they would not rent office space to WeWork if they were an office landlord, while 71% indicated that they would rent office space to a different coworking company.
Respondents anticipate that within the next 12 months, retail will have moved past the peak and into the "early downturn" phase.
JLL: Global growth bottoming out?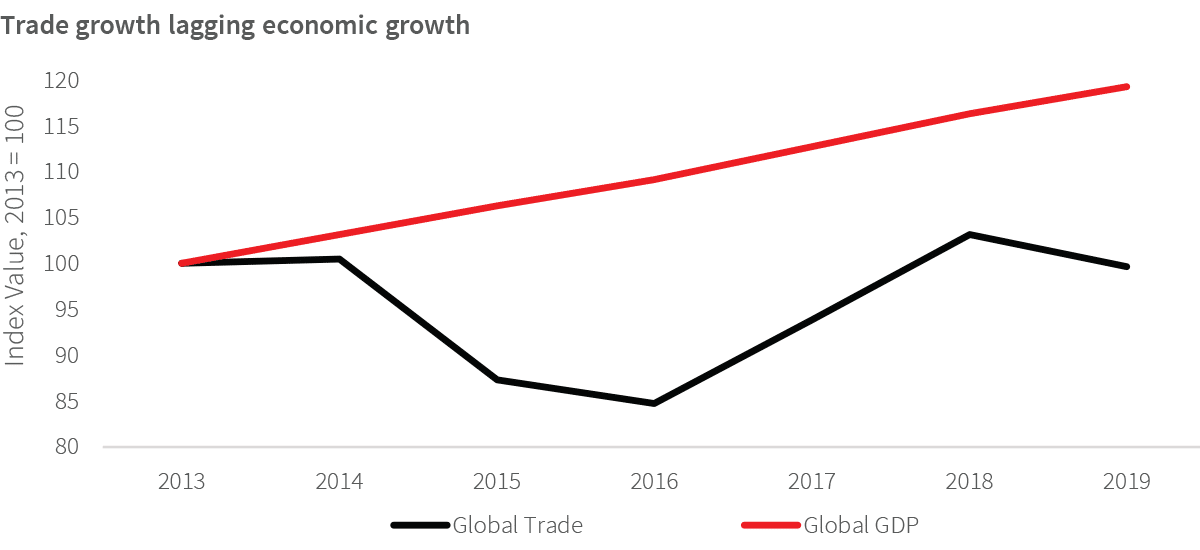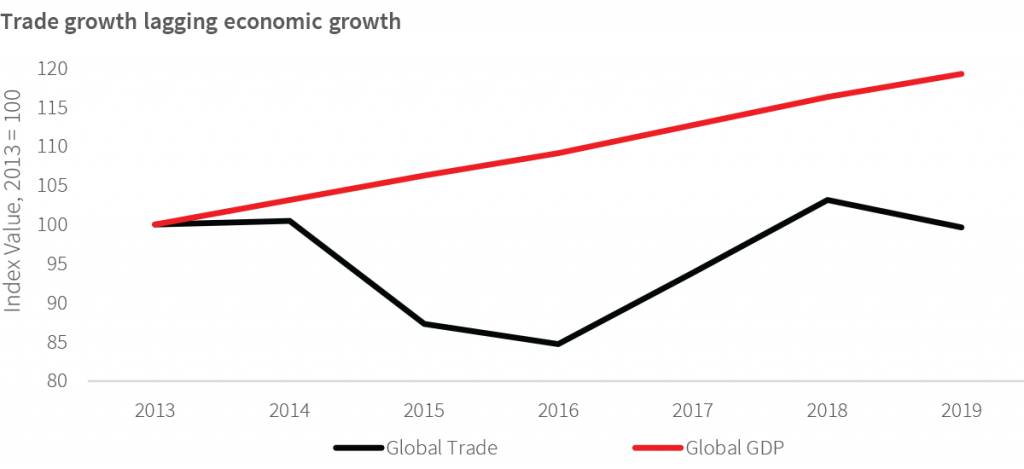 A year-end research report published by JLL highlights slowing global growth and implications for commercial real estate performance. Global economic growth for 2019 was forecast to slow to 2.5%, which is the slowest rate of growth since the start of recovery in 2009. The report largely blames discord on trade agreements and softer industrial production for the decline. That being said, the report also noted that the likelihood of a global recession remains relatively low. In the U.S., GDP growth was expected to finish 2019 at 2.3% and slow further to 1.8% in 2020. Slowing growth in other foreign economies, such as China, India and Canada, are expected to weigh on demand for U.S. goods and services. Other key issues that will impact global economies and U.S commercial real estate markets in 2020 include:
Geopolitical risks remain high with tensions in the Middle East, Iran and the ongoing trade conflict between the U.S. and China.
One positive for 2020 is that monetary policy likely will remain favorable for commercial real estate. Major central banks such as the U.S. Federal Reserve, the European Central Bank, and the Bank of Japan are expected to maintain low rates in the coming year.
Property values across nearly all markets are at near record-high levels.
Overall, JLL anticipates a positive year for CRE in the U.S. However, growth likely will come more from domestic drivers versus global growth. In addition, there is likely to be more limited upside potential for U.S. commercial real in 2020 due to slowing growth, potential headwinds and high valuations already achieved.
Cushman & Wakefield: Demographic Shifts, the World in 2030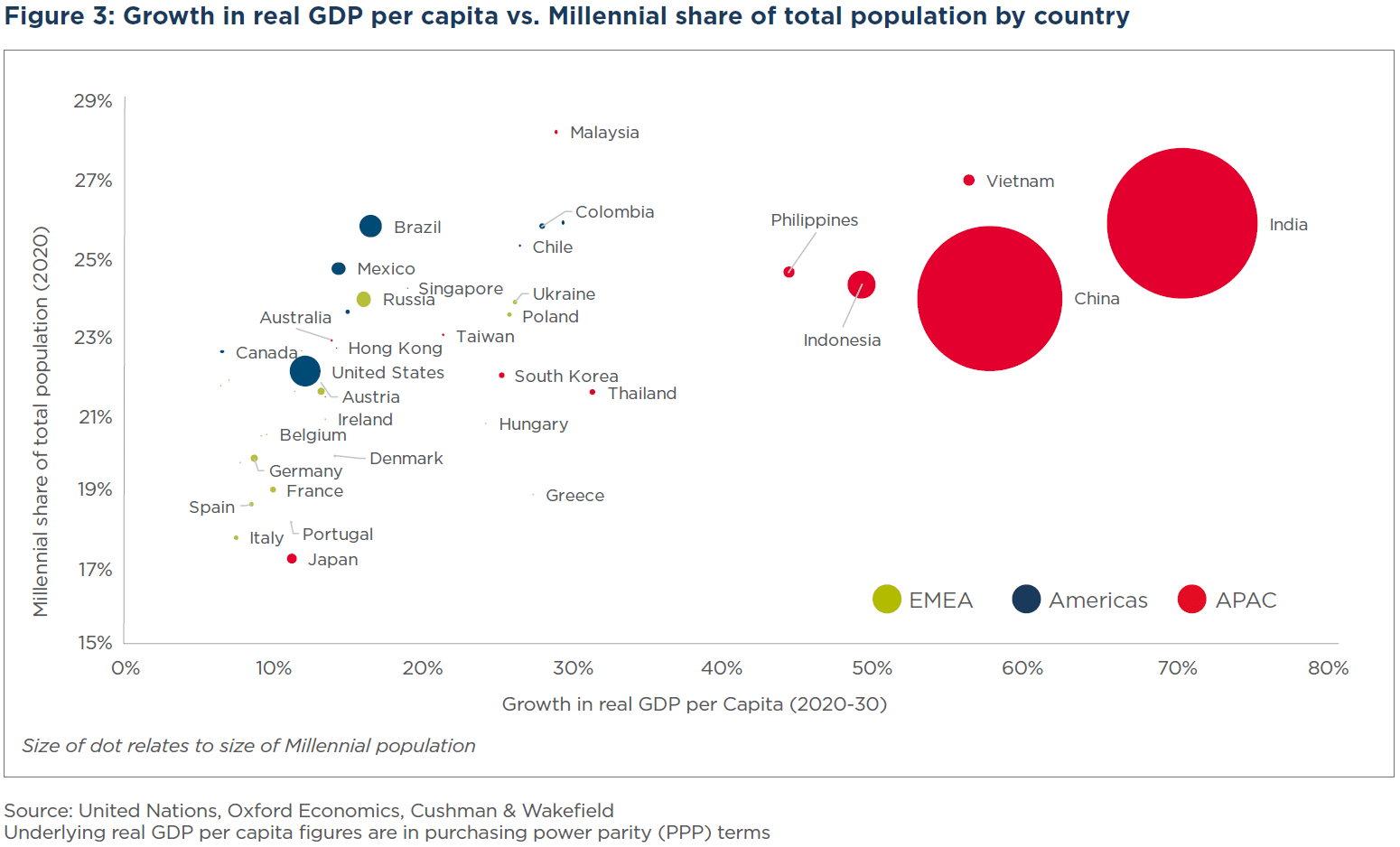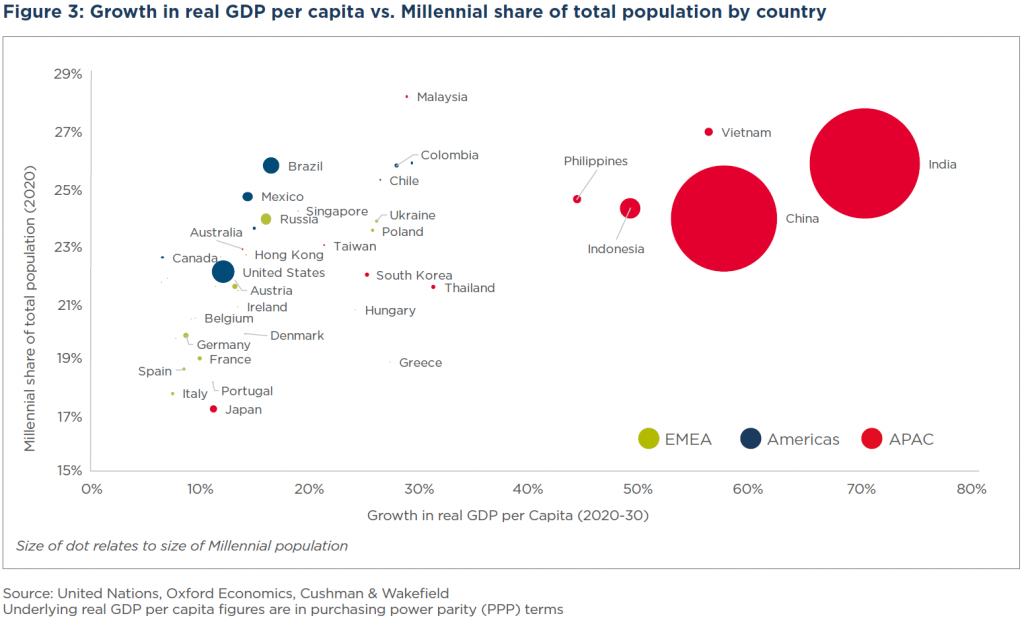 Real estate is all about people, and demographics are heavily influencing demand across all property sectors. Cushman & Wakefield's new report, Demographic Shifts: The World in 2030 provides a global view of what big changes in demographics ahead means for both occupiers and investors. Specifically, the report highlights potential impacts resulting from the retirement of 693 million Baby Boomers and the move of some 1.3 billion Generation Z workers into the labor force over the next ten years.
Gen Y (Millennials) and Gen Z will represent a majority of the workforce in the coming decade, which will impact all areas of the real estate sector. Investors are increasingly focused on trying to figure out what drives these groups, and how that will impact location decisions. The report highlights a number of impacts of demographic shifts on global cities. One of the main impacts is likely to be an emphasis on "placemaking". Cushman & Wakefield noted that in order to succeed, cities will need to focus on making themselves as attractive as possible to compete for both employers and talent.
Freddie Mac 2020 Outlook: Moderate, but healthy growth ahead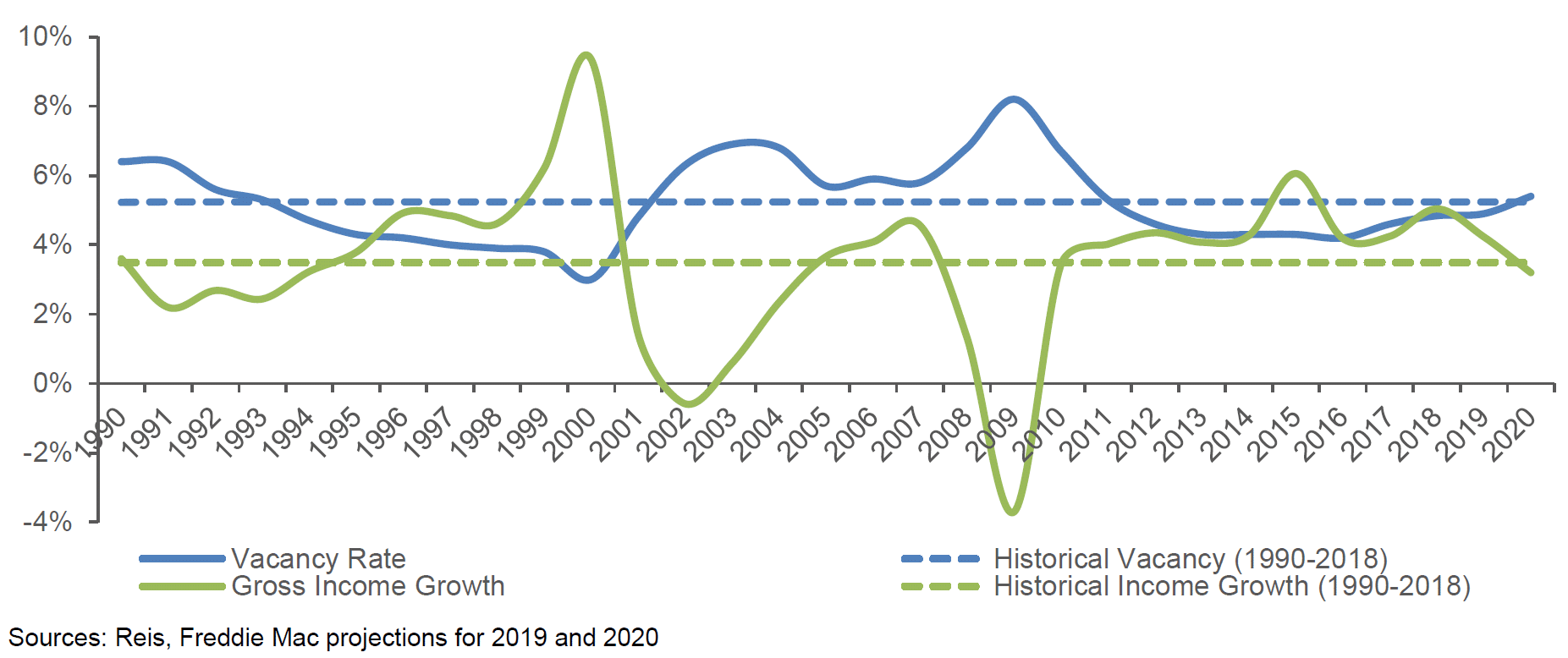 Multifamily appears to have some running room left in 2020. The sector continued to generate stable occupancies and rent gains in 2019, and the new Freddie Mac 2020 Outlook is predicting more growth ahead in the coming year. That being said, growth will be more modest compared to recent years due to elevated construction levels and some softening in demand. Supply is expected to outpace demand, which will likely result in an uptick in vacancies and lower levels of rent growth.
Multifamily has been buoyed by demand from a large and diverse renter pool. However, there are some signs of market shifts that investors will want to keep an eye on in the coming year. The report notes slowing momentum in household formations late in 2019, as well as a bigger shift to home ownership. U.S. Census Bureau data from Q3 2019 indicates that owner-occupied households outpaced renter-occupied household formations. The homeownership rate increased to 64.8%, up 40 bps from a year earlier, while year-over-year renter-occupied households decreased by 18,000. Other notable report highlights include:
Multifamily construction continues to surpass the pre-recession average. Based on permits and starts that were underway at year-end, new supply will remain elevated through 2020 and into 2021. Annual completions are expected to total 340,000 units over the next 12 months.
Rent growth is expected to remain healthy in 2020 at an annual rate of 3.6%. The report also noted that RealPage and Yardi have a lower forecast of around 2.5%.
Multifamily origination volume was expected to finish 2019 at $369 billion, which is up 8.8% from 2018, and rise another 5.7% in 2020 to $390 billion.
Mortgage Bankers Association's Commercial Real Estate Finance Forecast: Record lending activity in 2020
Low interest rates continue to fuel CRE transaction activity and strong borrower demand for debt financing. According to its latest forecast, the Mortgage Bankers Association (MBA) is predicting a 9% jump in commercial and multifamily mortgage originations in 2020 with total lending volume expected to reach approximately $683 billion. In particular, multifamily is expected to rise to $395 billion with commercial loans representing the balance at $288 billion. Looking further ahead, the MBA is predicting a slight decline in commercial/multifamily lending volume for 2021 to $660 billion.
National Real Estate Investor: 2020 Outlook Issue
This annual special issue of National Real Estate Investor magazine focuses on forward-looking market trends and insightful forecasts from industry professionals. It includes more than 40 individual articles that cover a wide range of property sectors, capital markets and the economy. In addition, some market experts take a deeper dive into investment strategy and specialty sectors, such as crowdfunding and proptech among other topics.