Case Study: Multifamily Rent Survey and Market Analysis Tool
Our client in this case was a prominent adviser to large multifamily developers wishing to examine a market and establish defensible market underwriting metrics. They came to us with a PDF of a Microsoft Excel® spreadsheet template which was poorly organized and used more than 8 pages just to summarize the market statistics. The CREModels team was able to do a deep-dive on the report and create a new template that was a single page instead of eight, while actually adding more reporting metrics. In the process we also streamlined the data entry for their distributed teams which perform the rent surveys and market analyses.
One of the major problems we see with real estate applications is the lackluster reporting and dashboard features. Without being able to convey this information quickly and easily, the whole point of aggregating the data is lost. Most of the business process tools, especially those written in Microsoft Excel® are poorly designed without a keen eye towards the workflow. They often end up being used as simple forms or glorified notepads rather than true tools for optimizing a real estate business process.
In this case, the client was trying to recreate and automate a PDF version of a Microsoft Excel® real estate spreadsheet which their team used for performing rent surveys. The data was then used to create large rudimentary charts spread across 8 pages and each chart only conveyed a single piece of information.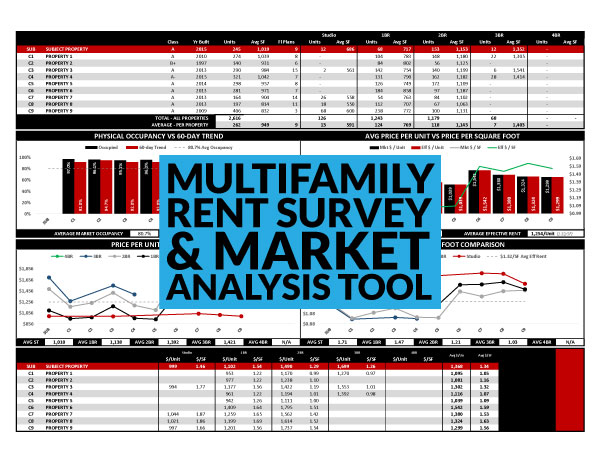 The CREModels Solution
CREModels developed an innovative real estate business process model to streamline the client's workflow considerably. We started by putting all the individual comparable property information pages in a single Microsoft Excel® spreadsheet workbook. This gave the client flexibility to dynamically add or remove properties with ease. We also combined the entire reporting onto a single page and even added metrics to show the overall size and makeup of the market at-a-glance, a feature which was absent from the prior method.
On a single page, the Multifamily Rent Survey and Market Analysis Tool shows:
Market Composition Matrix – Helps developer decide what size of a property to build and what unit mix is appropriate compared to potential peers

Total properties, units and square feet both by property and unit type (number of bedrooms, bathrooms, etc)
Average number of units, square feet overall and by unit type
Class and year built for each property

Physical Occupancy Comparison Chart – Helps defend occupancy projections in Real Estate Development Pro Forma Models

Current physical occupancy and 60-day trend for each property
Average current and 60-day trend for physical occupancy
Graphical format makes information easy-to-read

Rental Rate per Unit / Square Foot Chart by Property – Helps defend overall pricing by property and the market overall

Market and effective rent per unit and rent per square foot
Overall survey averages for market and effective rent
Data grouped by property for viewers who use property-level pricing and analysis

Rental Rate per Unit / Square Foot Charts by Unit Type – Helps defend unit-specific pricing in Real Estate Development Pro Forma Models

Effective rent for each property and each unit type
Both per unit and per square foot rental rates
Averages across the survey for each unit type

Property and Unit Type Comparison Matrix – Helps identify supply/demand opportunities

Per unit and per square foot rental rates for each unit type at each property
Average per unit and per square foot rental rates for each property
Quickly identify unit types with opportunistic pricing
Contact us today to learn more about how CREModels can optimize your business process through innovative solutions such as this!
Related Topics:
Real Estate Financial Modeling & Analysis
Real Estate Modeling with Microsoft Excel®
Real Estate Underwriting Dashboards